There is a lot of misunderstanding about different type of football (soccer) academies and their value among football players, their parents, and coaches. We have prepared this in-depth review for everyone who is interested in how to choose the best residential football program, avoid mistakes, and "exploit" all the benefits international football academies offer to the players.
Table of Contents
I. Who can attend a football academy?
II. What are the features of a good academy?
III. Types of football academies
Overview
Features of football academies run by professional clubs
Features of football academies affiliated with professional clubs
Wholly independent football academies
IV. Football training options at the academies
V. Coaching staff and qualifications
VI. Training process
Training bases
Use of football-related technology
Playing opportunities
Training intensity and content
VII. Reputation in the football community
VIII. Successful Alumni
IX. Academic education
X. Accommodation and meals
XI. Child protection and safety
XII. The Application Process
XIII. Conclusion
First, a note on terminology: we use the terms football academy and soccer academy interchangeably. It is just a difference between British English and American English.
I. Who can attend a football academy?
Soccer academies cater for athletes from 10 to 24. However, the age range varies in particular academies and national governments and football associations impose different minimum age rules.
The vast majority of soccer academies are open to male players only. However, this could change to reflect the growing popularity of professional leagues around the world.
One of the best ways for a player to make it into professional football is to get into a football academy.
Best football academies create an optimal environment for youth which allows them to focus on the game, progress through continuous athletic performance, communication, team building and schooling with other students with similar skills, potential and ambitions. Simply put, an athlete in the football academy is minimally distracted and progresses "naturally".
II. What are the features of the best football academies in the world?
A football academy is a highly selective football school for young, talented and ambitious players usually lasting from a few months to several years. A range of programs are available (see Section IV)
The stronger its coaching team and facilities, the better a football academy is. How to evaluate coaching qualifications and facilities will be explained in Sections V and VI below.
A good academy provides intensive football skills development, gym training, theoretical classes with video analysis of matches as well as friendly and competitive matches. In addition, classes and workouts on diet and nutrition, recovery, injury prevention and sports psychology take place. However, training methodologies do vary to some extent (see Section VI)
High quality football academies have focused and effective connections throughout the football community which they leverage to promote the careers of their most promising young players (see Section VII).
High-quality soccer academies are also focusing on the academic education of athletes so they can successfully graduate from high school or university. The best international football academies almost always offer several options – for example, studying at a local school and/or remote e-learning (after the British or American system). This vital topic is explored in more detail in Section IX.
Athletes usually live on an academy campus or are boarded with local families but a range of options are available (see Section X).
As will be apparent already, not all football academies are the same. Many academies recruit from a specific geographical area. Some of them have many years of experience, hundreds of students and many success stories; others are newer and may work with fewer students, creating more of a family atmosphere, but provide a comparable and often even better quality of education and prospects after graduation. Unfortunately, there are also football academies which promise a lot, but in fact, have few success stories, if any at all.
In this guide we will explore some of these features in more detail and show how to choose an international high-performance football academy and what to pay attention to, regardless of the country the young player comes from.
III. Types of football academies
Overview
Although all soccer academies share the same goal – to prepare young players to a professional level, they all have a different approach which depends on the methodology and/or business model they follow. Essentially, academies can be run by a professional club to develop players for their own use, run as a business affiliated with one or more professional clubs in order to achieve synergies or be run as wholly independent businesses.
Features of football academies run by professional clubs
It's essential to remember that every athlete is an investment for club academies. In most cases, players nominated to this type of football academy do not pay for tuition, all expenses are covered from a club budget. The club expects that in the future some of its students will make the first team and either save the club the cost of buying in a star from another club or be sold at a premium. The problem is that only a few players out of hundreds of child recruits reach the level of the first team and/or are subject to a lucrative transfer. The others may be simply discarded with little effort made to further their careers elsewhere.
The other thing to be aware of with club-based academies is that they almost always recruit players from a local catchment area often based on the recommendations of a network of local PE teachers, for example Leicester City academy in the English Premier League. Only a small percentage come from the country as a whole and even fewer from abroad. In 2019, the European Club Association (ECA) studied professional football clubs in Europe (including Bayern Munich, Arsenal and Ajax, whose academies work most successfully, and found that:
a) They accept only 1% of foreign trainees aged 10-16 years and up to 3% aged 16-23, while 71-78% live within an hour's drive from the football academy.
b) At any one time, on average, 5-6 players in the first-team squad are graduates who spent at least 5 years at the club's academy. But it should be noted that these players are of all ages. A 19-year old player just graduated from the soccer academy may be a part of first-team squad as well as a 28-year old who graduated from it a decade ago. So, although 5-6 first team players sounds impressive, these players reached the first team in different years and the success rate from each annual intake is more like 1-2.
For example, one of the best pro football academies in the world – Ajax academy (Amsterdam) contains 12 teams of all ages, approximately 200 players, 95% of whom are citizens of the Netherlands selected only from Amsterdam and its suburbs. The goal of the academy is to have 3 players transferring to the first team every two years. Just imagine, 3 players for two years, and these 3 players are out of a talent pool of 400. In other words, less than 1% of the academy's players advance to the adult team.
Features of football academies affiliated with professional clubs
There are also soccer academies which are independent businesses, but affiliated with a particular professional club. In this case, the training process may include the participation of club coaches in the football training sessions of the academy players, or vice versa, academy players sometimes also play for such a club. But ultimately, it is the football academy that is responsible for the progress of the player not the club. Most affiliated academies recruit players from a wide area.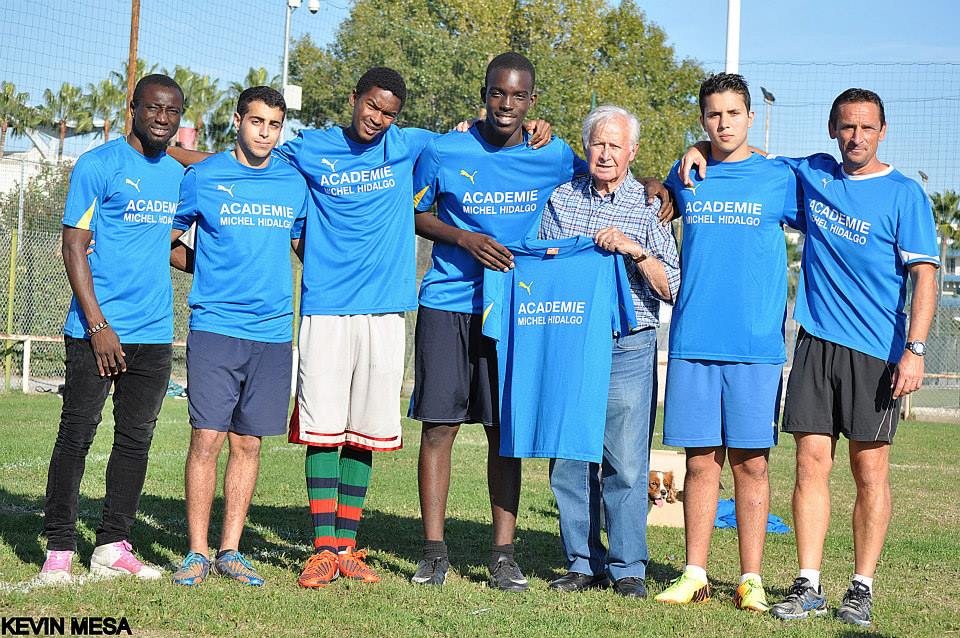 An illustrative example is the Michel Hidalgo football academy in Cannes (France). This is one of the leading academies in France, collaborating with FC Cannes (Ligue 1). Many academy graduates have continued their careers at professional clubs in France and Europe. The academy accepts athletes from 14 to 22 years old for a one-year program, or for only one semester.
Another top French soccer academy ICEF (International Center for European Football) owns and operates FC Thonon Evian Grand Geneve (Evian).
Outside Europe, the elite PSG soccer academy in the USA (Miami) has an obvious affiliation with the FC Paris Saint Germain (Paris) and its coaches provide pro football training to the students on a regular basis.
Wholly independent football academies
This is the largest group of academies in the football training industry. They are truly international and the best independent academies recruit players based on talent and potential rather than nationality or locality. Some of the best football academies do not have any connections with professional clubs and train players according to their own methodology, at their own sports bases and campuses. They promote players to clubs by personal networking rather than formal ownership or affiliation. Within the wholly independent sector there are a number of different approaches. The following are representative eexamples:
FAB football academy in London, England has a reputation as one of the best football academy in England for players U16-U19. Their coaching methodology is based heavily on the traditional physical and intense English football.
The WOSPAC football academy in Barcelona has yet another different approach based on Spanish/Catalan football with its emphasis on technical ball skills and tactics. Therefore, whether it is a short-term camp or long-term program, players will train according to the Spanish model in cooperation with FC UECornella who play in Segunda Division B – Group 3 and run a special short-term pro soccer camp in conjunction with WOSPAC.
EduKick Football Academy is a good example of the flexibility the independent approach can provide. The approach to soccer training varies depending on the country where the academy is located. For example, its pro football academy in Spain (Tarragona) relies on the Spanish style of play; soccer academy in Manchester – on the English style of the game.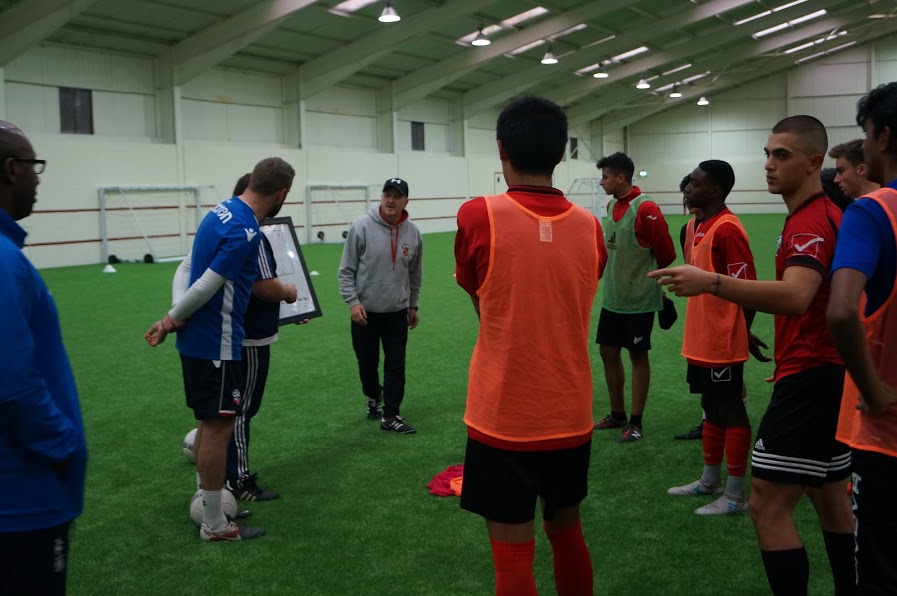 Obviously, if a player attends a football academy, let's say, in England or Spain, he is more likely to break into European football as it is easier to get noticed by coaches, and scouts and he will be match fit for the way the game is played in European leagues. However, the emphasis on national styles of play does not preclude players from succeeding abroad and EduKick graduates from Manchester can also be found playing for Seattle Sounders in the American MLS.

IV. Football training options at the academies
The length of training with an academy run by a professional club is normally dictated by the club who cover all the costs. However affiliated and independent high-performance football academies, as a rule, offer several training options which vary according to duration and price. Although their basic "product" is a year-round program (1 or 2 years of study), players may also opt for 6-month programs. In some academies there is even an option to register for only 3 months training or less. The program's "package", application requirements and price differ depending on study duration, location of the soccer academy, and extra needs. For independent high-performance soccer academies, the price varies from USD 15,000 - USD 60,000 per year depending on the country, academy and program.
To give an indication of the range of programs available consider:
WOSPAC football academy in Barcelona offers young players its flagship annual program. Inclusive prices start from EUR 49,000 for children aged 12 to 16 years on the junior program reduced if food and, accommodation are not required by the many academy students, who are local and only need pro training sessions.
Similarly, WOSPAC football academy provides short-term professional programs "Soccer Stages" from 2 weeks to 3 months ("Normal" package and a more expensive "Pro" package). The difference in price is caused by extra training sessions with FC UE Cornella included in the Pro package. Such short-term programs are also convenient because athletes can evaluate whether the academy program meets their needs before investing in a long-term course.
For children aged 10 to 16 there are other great options too – the Global Premier Soccer Academy in the USA, or the one-year Junior Academy in Manchester (England) from EduKick.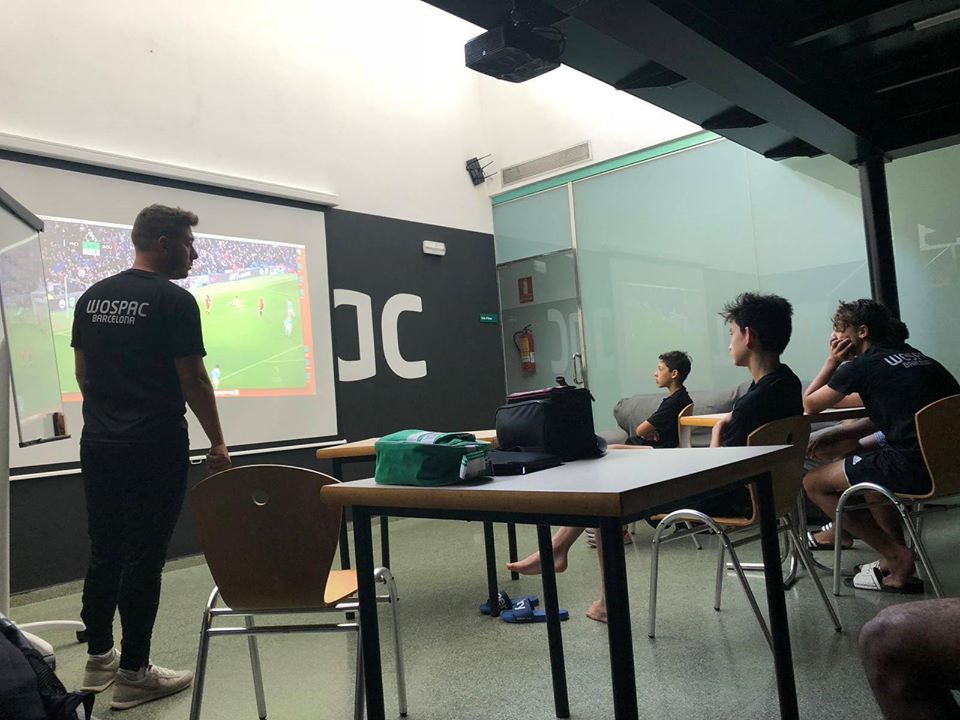 For young players aged 13 or older – take a look at the elite Kaptiva Sports soccer academy in Barcelona or the Michel Hidalgo soccer academy and ICEF which are both located in France (Cannes and Evian respectively).
For athletes aged 16 or older there are many options to choose from, not least the WOSPAC Football Academy program from EUR 18,000 for teenagers over 16.
If you would like to, you can review the whole list of our partners' international football academies.
V. Coaching staff and qualifications
Whichever academy and training option you choose, it is obvious that the quality of football training depends on the qualifications and experience of the coaching staff. This is not only a technical and tactical training process but involves mentorship of athletes and their psychological development.
The system of training and licensing coaches can be confusing to the uninitiated. In European football coach training and licensing is the responsibility of the European governing body, UEFA. Coaches are awarded licenses of varying grades. These are often referred to as "coaching badges" within the game. Here we will use the terms license and badge interchangeably.
UEFA Pro and A licenses are the most prestigious. However, if the course you are interested in concerns the development of young athletes (8-12 years old) then B license holders are quite sufficient. For example, at the soccer academy of FC Bayern Munich (Germany), players under the age of 12 are trained by coaches with a B license. Only teams from U14 upwards are trained by coaches who hold the UEFA Pro license.
The full system of licenses in the UEFA system (European football) is as follows:
Level 1 – coaching children at the very early stages. The training course takes only a few weeks.
Level 2 – training at the level of amateur football and amateur leagues. To obtain a license it is required to undergo a training course for about 6 months.
Level 3 (B license) is the minimum compulsory license for training at football academies in Europe. It takes 12-18 months to complete the course.
Level 4 ("А" license) – allows the holder to train professional teams and academies. A 2-year course is required.
Level 5 ("Pro" license) – allows the holder to manage and coach teams of top division level in European leagues. An A license is a prerequisite and it takes a further12 months to complete this course.
North American football has its own coaching license system. In the USA there are 2 organizations responsible for football development in the country – USSF (United States Soccer Federation) and NSCAA (National Soccer Coaches Association of America) – and both are entitled to issue licenses. We will not list all types of licenses here; we just want to note that they are also issued on the basis of satisfactory course completion by the candidates.
It often happens that coaching staff of US academies, as well as those in Canada and Australia, includes coaches with UEFA licenses. It allows academies to have diversified experience. For example, the coaching staff of GPS soccer academy in the USA includes coaches with UEFA A and USSF licenses.
Searching the coaching staff of the academy, their experience and licenses is an essential step when choosing an academy for three reasons:
The player must be confident that coaches will be able to help him/her achieve their goals
Parents must be confident of receiving value for money.
All UEFA coaching courses now include a module on child safeguarding mandated and approved by governments (see Section XII). Therefore, checking that coaches have appropriate badges provides protection against abuse and reassurance concerning their child's safety and wellbeing.
To the best of our knowledge all football academies presented on our website have coaches with licenses of the highest categories.
VI. Training process
The effectiveness of the training process at the academy depends on many factors besides the coaching staff. In this section we will consider the importance of the training bases, the technologies used, playing opportunities and the intensity and content of training.
Training bases
The state of the training base can be regarded as an indicator of the development of the academy to a certain degree. Within the team, we are of the opinion that the students' accommodation can be modest, since this reduces costs and is not critical at all for training. But the quality of the training base is highly significant. Necessities to check include high-quality pitches (both natural and synthetic), preferably with floodlights for evening training to fit around academic education, a gym, pool, rehabilitation room, multi-media classrooms etc. The photo below shows a training base of the elite football academy ICEF in Evian (France) which is considered to be one of the best independent football academies in Europe.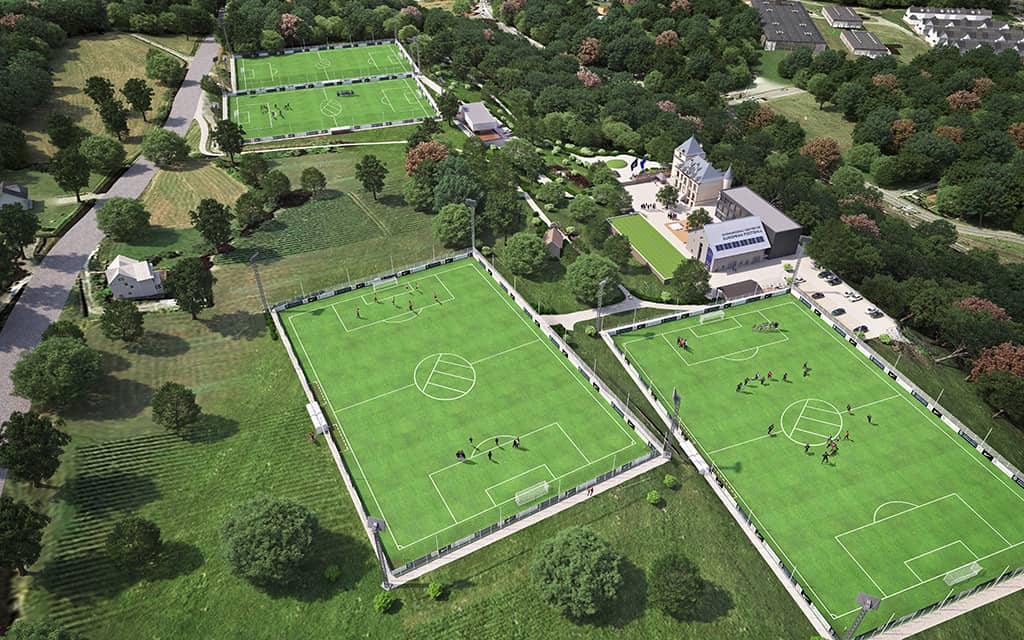 Use of football-related technology
New technologies "push" sports training forward. Technologies are used for physiological conditioning, recovering after matches or injuries and analysis of games. If a football academy uses them for training athletes, this is a good sign. The following are some of the most popular in football:
a) Wearable devices, most commonly, portable GPS-sensors for measuring the individual physical characteristics of a player during training or a match. They are used, as a rule, in the form of special vests. The information obtained helps to determine the physical state of the player, to prevent injuries and to identify strengths and weaknesses.
b) Special simulators and equipment for training and recovery. This also includes isokinetic simulators that allow coaches to measure the strength of individual muscles of the body and predict injuries or muscle depletion. Spirometric equipment for rating the state of the lungs and endurance of players is also used.
c) Various computer programs used to analyze games and teach football tactics
Playing opportunities
Leading football academies offer players various opportunities to practice in a real game what they have learned in training. Generally speaking, there are three types:
Friendly matches including games between teams within the academy
Competitive matches where, for example, an academy team participates in a local league or cup competition
Football academy trials
Each type of match has its advantages. For example, during friendly matches or domestic competitions, coaches can make more substitutions and give instructions to the players (analyze their game) during the match. Good soccer academies have a wide choice of teams of equal or higher level to play against on this kind of basis.
It is important to remember that the FIFA rules prohibit international students under the age of 18 from taking part in official competitions outside their home country unless their stay in the country exceeds two years. Consequently, many international football academies organize independent tournaments with other academies so as to provide players with the right amount of playing time.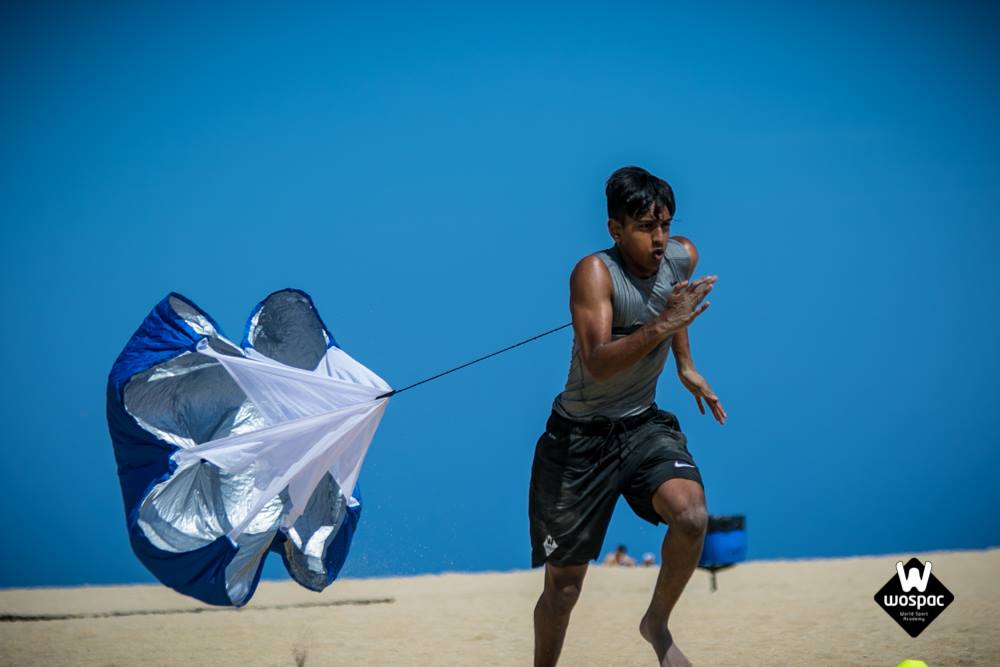 For instance, elite PSG soccer academy in the USA (Miami) has extended time slots in the schedule for friendly games, official tournaments and matches both in the USA and on guest trips to Paris. At the EduKick Football Academy in Manchester, friendly games take place against teams from all levels from semi-professional to Premier League like Accrington Stanley, Altrincham, Barrow, Curzon Ashton, Manchester City Elite Development Squad, Manchester United Academy and Preston North End. Similarly, students at the pro football academy of Michel Hidalgo in Cannes hold matches with teams (of appropriate ages) from such Ligue 1 clubs as Nice and Marseille.
Therefore, when choosing a soccer academy, one needs to pay attention to the football opportunities offered. Academies with established partnerships with other clubs can arrange quality friendly competitive or official games.
The availability of trials is particularly important as this is where, among other things, players can show their talent to the coaches of professional clubs, scouts or agents.
Training intensity and content
There may be more or less training and official matches and competitive games depending on the program 'package' for which the player has registered. For example, the EduKick soccer academy has different packages and prices for players from 10 to 16 and from 16 years old, including football camps and professional pre-season training camps in different countries. However, this is not a common practice, and only a few academies use this approach. In general, all programs are approximately equal in terms of daily routine and training intensity
A successful career at a professional level is not only about physical or tactical training. Players need to learn about sports diets and psychological preparation. The latter is vital when a player leaves the academy and begins their career at a professional club. The history of football is littered with players who 'broke down' psychologically and ended their careers or simply failed to reach their potential. In good football academies, they understand this and address these issues throughout their courses.
That is why athletes and their parents should not only focus on training football shooting drills or football passing drills, but take a complex approach to the player's development.
VII. Reputation in the football community
Training in an affiliated or fully independent football academy offers athletes the opportunity to take advantage of the reputation of the academy and its coaches long-established contacts with scouts and coaches from professional clubs, as well as agents.
Scouts and club coach every day receive dozens, if not hundreds, of letters and calls from young players, their parents, coaches, agents and PE teachers asking them to watch a youngster or give him a trial. But there is just not enough time to track everyone. And that is the moment when the reputation of a football academy or its coaches comes into play. They recommend scouts or coaches to come and rate a particular young player in trials or academy games, or as a last resort to watching his video.
Scouts and club coaches who have been working with these coaches or academies for a long time and have established partnership contacts, know that their time won't be wasted on no-hopers. But it also works in reverse as well – the academy coaches will not call scouts and club coaches for trials if they are not convinced of the player's potential as they have to maintain their reputation.
This is why only academies with well-established contacts should be considered; those who regularly hold trials or exhibition competitive games and invite scouts and club coaches. Without such mediation by a football academy, it is hard for a young player to get attention.
In terms of reputation and contacts, FAB football academy in London (England) is considered to be one of the best in the UK. They have a massive range of contacts within the football industry, especially in the UK. All this helps them host and organize competitive exhibition matches for their students, as well as to win the tournaments they participate in. Those in the know, such as former Chelsea legend and current coach Tore Andre Flo, trust FAB's networking skills. Flo has even entrusted them with the development of his son's career.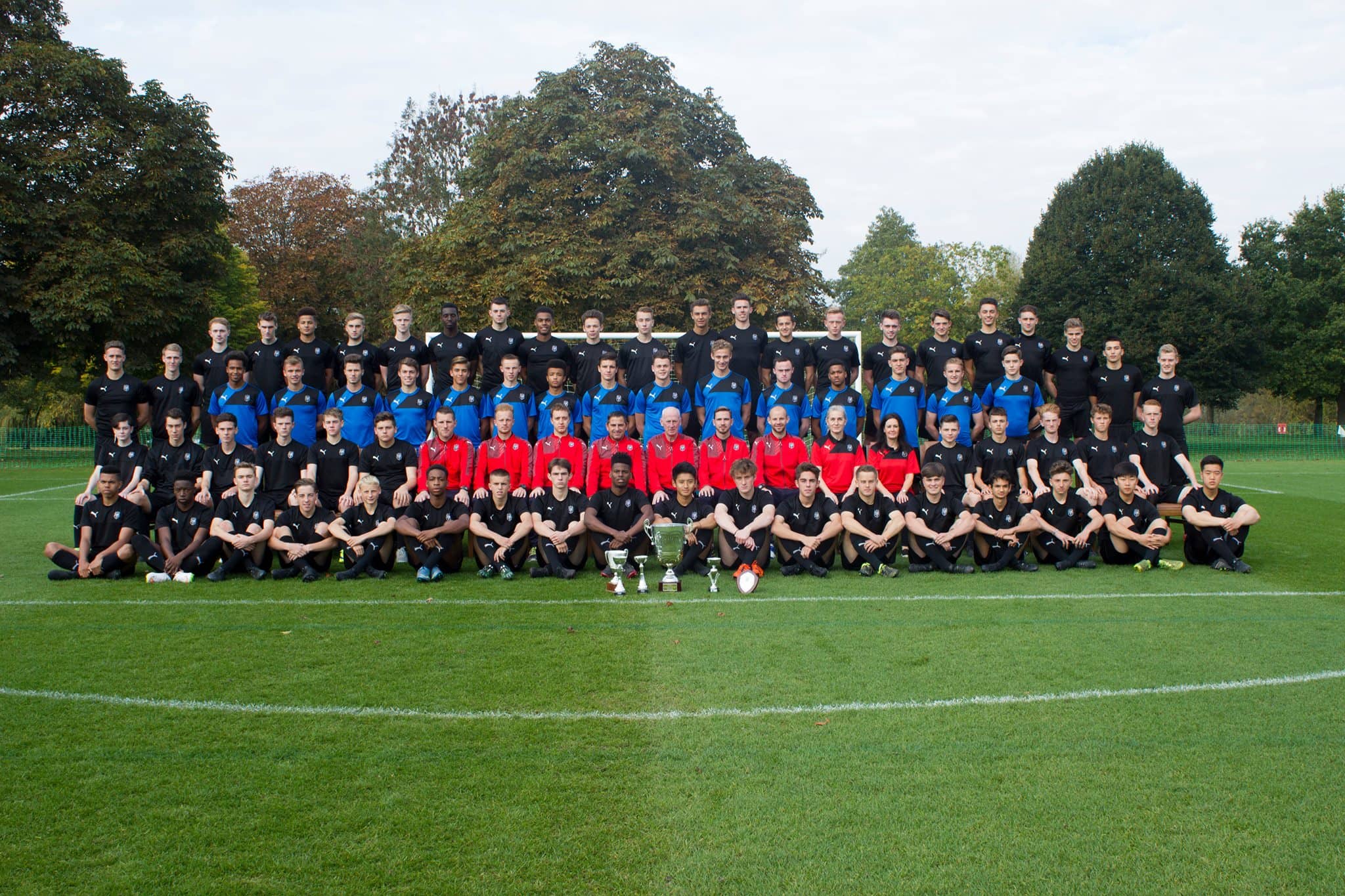 Another example comes from the EduKick football academy in Manchester for juniors from 16 years old. On average 12–15 scouts and coaches from professional English clubs are invited to watch each intake of students. Academy students have subsequently been invited to trials at Premier League Everton, League 2 clubs, such as Crewe Alexandra and Accrington Stanley, and Northern Premier League side, Witton Albion. Moreover, the EduKick Academy in England has a special football camp where talented athletes are invited to train and take part in the formal trials and given very focused exposure to professional scouts.
Don't worry that not all the clubs listed above are among the world's elite. It is more important that the football academy has connections at different levels (divisions) of professional football. Just as promising players from academies run by professional clubs are often loaned out to lower league teams to gain match experience, not every graduate from independent academies immediately signs for an elite club. Many of them begin their professional career with teams in the second or third division in the top leagues, or the top divisions of minor European leagues, for example, Finland. Therefore, the wider the network of contacts the academy coaching staff have, the better.
VIII. Successful Alumni
Each academy is proud of its graduates, especially when they reach the highest professional levels. Their success is not only due to their own talent, perseverance, and hard work, it is also the result of the work of coaches and all employees of the academy.
Let's look at the alumni lists of some of the academies that are presented on Sportlane.
| | | |
| --- | --- | --- |
| Football academy | Players/ alumni | Continued their career at youth and first teams of the following pro clubs: |
| International Football Academy by JAG Winning Sports & FC Valencia | Dejan Iliev, Martin Svidersky, Savvas Mourgos, Ricardo Farcas, Christos Albanis, Kostas Pileas, Alex Santikai, Martin Kolev, Daunte Wruck, Marco Divcovic | Arsenal, Man United, Watford, Ajax, PEC Zwolle, SC Heerenveen, Verona, Spal 2013, Boavista, Barcelona Poland, FC DAC 1904, Panathinaikos, Olympiacos, APOEL, AEK Larnaca, George Washington University |
| EduKick Football Academy | Miguel Hamutenya, Duncan McCormick, Davide Somma, Nico Muniz, Eric Behrens, Lawrence Hanna. | Leeds United, Accrington Stanley, Derby County Youth Academy, Seattle Sounders MLS, Strommen, Wake Forrest MLS, Pozuelo |
| WOSPAC Football Academy | Xu Xu, Sergio Alfaro, David Medvedchuck, Kenni Thompson, Adam Ozeri, Samir Musayev | Chelsea, RCD Espanyol, CA Banfield, Costa Rica U-15, Dinamo Kiev, Azerbaijan U-19 |
| Kaptiva Football Academy | Boris Chilingaryan, Santi Fuentes, Corey Lundeen, José Masllorens | Armenia U18, River Plate, Girona, Colombia U 16, scholarships at Point Saint Loma Nazarene Univ |
| FAB Football Academy | Ryan Hill, Nathan Minhas, Connor Hall, Omari Patrick, Olly McCoy, etc. | Stoke City, Bolton Wanderers, Bradford City, Birmingham City, Billericay Town |
The above are just a few examples and not a complete list.
X. Academic education
The presence of academic education (school, college, university) in the 'package' offered by an academy is, in our opinion, the most important element when considering a football program. Despite the impressive lists of alumni, there is no guarantee of success in professional football. The reasons are obvious. The career of an athlete may fall short through injury or simply not being good enough for professional football. In such cases, the young person needs to have a safety net in the form of academic knowledge and life skills with which to continue his/her education or start working.
Knowing this, some academies insist on good academic results as a condition of entry, for instance, Bayern Munich football academy. Werner Kern, the Head of the academy, says, "We cannot promise their parents that one day they will be playing for FC Bayern Munich, but we can promise that they will be educated."
Best football academies also understand this issue and offer athletes various study options designed to help them gain not only recognized academic qualifications but also to develop life skills including communication skills with peers, and gain an understanding of foreign culture and lifestyle to broaden their horizons. In an increasingly globalized world, this can be one of the advantages of choosing an international academy.
Some of our partners pay special attention to the possibility of their students enrolling in sports scholarship programs in American universities. FAB football academy has great expertise in this form of semi-professional career development. Indeed, the latter has a special program called "US Soccer Chance" which is devoted to the preparation for US universities.
Now that we have stressed its importance it is time to consider the most common types of academic education on offer in football academies:
a) online education (via the Internet).
The educational institutions that offer online education obtain an educational license like regular schools which means that they are authorized by the national Ministry of Education in relevant countries to teach remotely. Athletes receive the same credits based on test results or assignments as students at regular schools. The online option is suitable for academy campus-based athletes who have left their regular school. They usually have intensive training schedules during the day and thus need a flexible schedule. Online education, is also used when the player remains registered at a mainstream school but is allowed to continue studying remotely (more frequently practiced in North America and Europe). However, it should be noted that generally speaking, British and American education providers have the most advanced online programs and tuition is often in English rather than the student's native language.
b) education at a local school, college or university
This is also a fairly popular option. Thus, the EduKick Football Academy in Tarragona (Spain) enroll players between 13 and 16 years old in a local school. Players over 16 years old are encouraged to continue their education at school or college as they wish. Michel Hidalgo Football Academy in France offers both online education and studying at a local school if students speak French. PSG soccer academy in the USA offers students the possibility to attend to North Broward Preparatory College. ICEF football academy in Evian (France) requires athletes to study at one of the oldest and most renowned private schools in Europe, or study online programs in English (American Middle & High School - Grades 8th – 12th or Cambridge Educational Program - Grades 9th through 12th).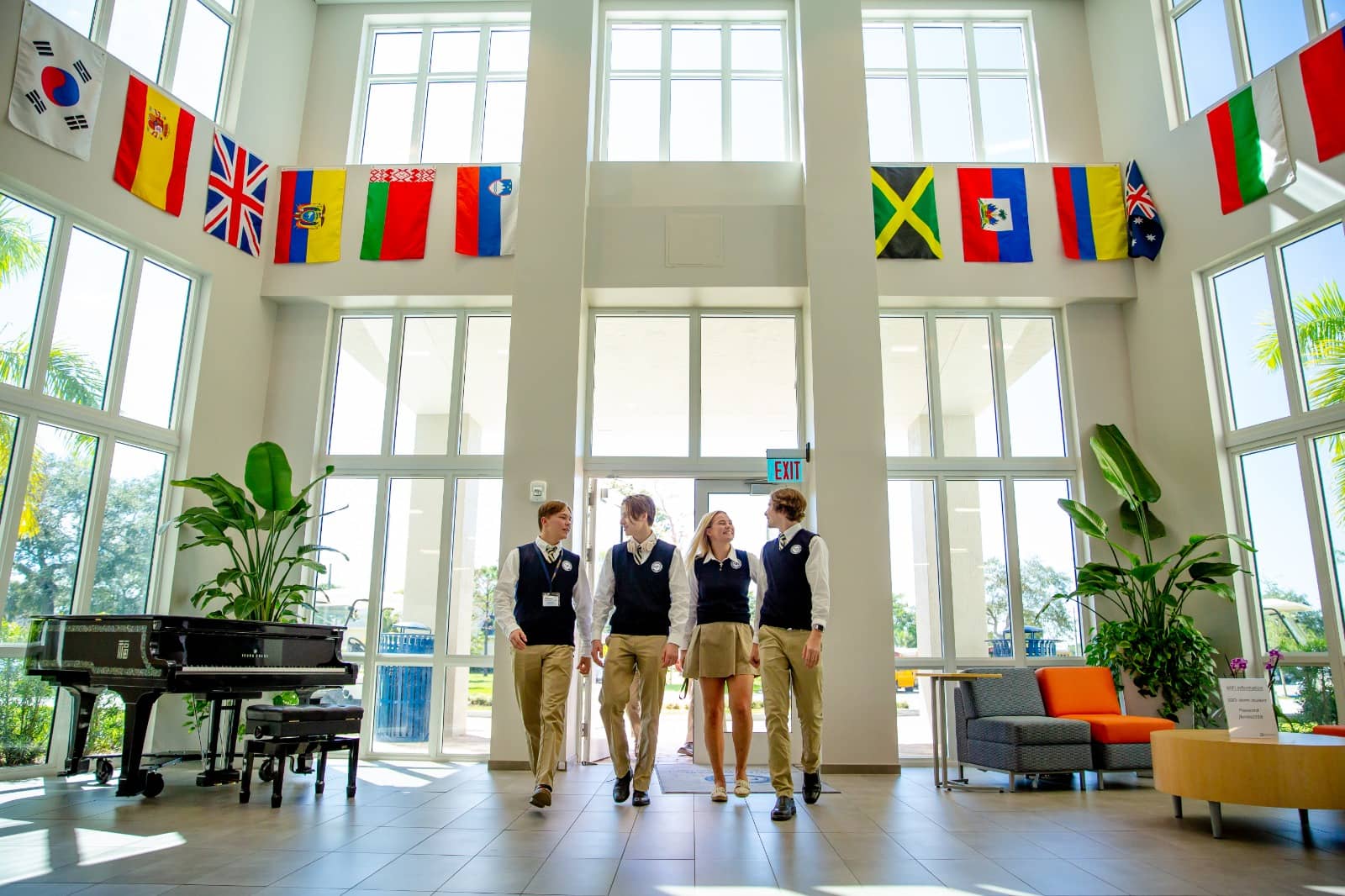 Academies have no right to force students over 16 to continue their education except in countries, such as Australia, where the legal school leaving age has been raised to 18. Therefore, academies elsewhere offer different options. More frequently, it is foreign language courses, online education or college degrees related to the sports industry such as sports management or sports marketing.
Each football academy has its own approach to the academic education of the players. Different approaches will suit different players learning styles and circumstances. Parents, as well as players themselves, should consider all the options carefully before finalizing their choice of the academy.
XIV. Accommodation and meals
Living arrangements
As mentioned in Section VII above, students' accommodation does not have to be five- star. But it is, nevertheless, important and it is organized by academies in different ways. Single rooms are infrequent. In most academies, rooms are designed for 2 people, but sometimes students are housed in shared dormitories with up to 8 people and shared baths and toilets.
Of course, such options have their pros and cons. The plus is that football is a team sport. Living in the same room with team mates for almost a year helps young athletes to bond with those from very different backgrounds and learn team working skills they will need as professional players. In some academies, this is done deliberately as part of the training process and approach to life itself at the football academy.
But, obviously, the dormitory approach may not be suitable for everyone and some people will prefer single rooms or sharing with only 1 roommate. Another alternative approach is for students to stay with host families in the local town. Living with host families can be a great experience as players can improve their foreign language skills faster and immerse themselves in the national lifestyle.
Study carefully the description of accommodation which is almost always highlighted in each academy's prospectus. As examples of what to expect, the campus of Michel Hidalgo football academy in Cannes (France) has 110 rooms. By default, all are for two people, but for an additional fee, a player can stay in a single room.
Diet
As for meals, most academies offer 3 meals a day and snacks during the day or between training sessions. As a rule, this is a buffet with a varied menu, so that players have a choice of their preferred food. Thus, academies respect the fact that, Muslims may not eat pork and someone else may have an allergy.
It is also important to realize that the diet and 'cuisine' depend on the academy location. Mediterranean cuisine with fresh seafood predominates at branches of the Global Premier Soccer Football Academy in Portugal, Spain, and Greece. If it is England or the USA, there will be fusion cuisine.
But in every case, good academies stress the importance of correct nutrition for athletic performance, so the diet is always designed to deliver healthy meals with the best supplements and vitamins for collegiant-athletes if needed.

XII. Child protection and safety
Child protection and safety is an important aspect at football academies which parents, the football authorities and governments are, rightly, paying increasing attention to. It is especially important in cases when a young player goes to an academy abroad, where the laws and culture are completely different. The managers of good academies understand these concerns very well and treat all children like a 'family'. The number of participants is limited deliberately in some academies, so that the players do live and study as a family.
Whatever the size of the academy, key safety measures to look out for include:
(a) 24/7 internal supervision of children
One principle should be taken into account; quality control is only possible when there are no more than 10 children per tutor, especially for children between 10 and 16. Always check the staff/student ratio.
(b) Code of conduct
All academies have internal rules (code) of conduct for students. These will typically include rules forbidding students to leave the academy without permission, smoke or take drugs, a curfew to enforce a healthy sleep schedule and requirements to follow the instructions of the tutor if the group is outside the academy, etc.
(c) external supervision
The academy campus should have security services including cameras, security posts at the entrance and inspection of the premises during the day.
(d) physical health services
Injuries and illnesses cannot be avoided during the year, and the academy administration, drawing on their own football experience, should take the necessary measures in advance by hiring various medical staff including general practitioners, and sometimes even teams of specialists. If a player needs to be sent to the hospital, all costs should be covered by insurance. Check that this is included in the quoted price as in some countries, especially the USA, it can be a very expensive extra.
(e) Mental health support
In addition, there should always be child psychologists at the academies in case the students suffer as a result of home sickness or the stresses which are inevitable in a highly competitive environment.
(f) requirements of the football authorities
As discussed in Section VI all UEFA coaching badge holders have received instruction in child protection and safety as part of their courses. Therefore, check the credentials of the coaching staff.
(g) government requirements
In some countries, the government has imposed additional child protection and safety requirements. For example, in the UK, football academies are subject to inspection by OFSTED (the national regulator of schools) and must have a written, approved child protection plan in place.
In general, do not be afraid to ask questions regarding the academy's safety and security policies, you can ask either administration or former students, or arrange a visit in advance of enrolling.
Are you still interested? See all soccer academies on our site then read our advice about the application process.
XIII. The Application Process
The application process will start with standard questionnaires with general information about the candidate. But it does not stop there. Players (and/or their parents) are asked to fill out a further questionnaire, which, among other things, has questions about diet, restrictions and medical diagnoses. In some cases, a full medical examination may be required.
On top of all that, the best football academies require the student to provide a football CV and video clips of their games. In other academies the selection is even stricter, they invite athletes only if they successfully pass a football trial. Such trials take place during short-term soccer camps (often in summer, before the start of the season) or separately (various dates during the year).
This rigorous selection process may seem like a lot of hoops to go through. Indeed, it can involve some trouble and expense to produce good quality videos. However, the best academies do it for a very good reason. They know from experience that young players only progress if they are playing with, and studying with, others of a similar level of football ability, drive and ambition who will push each other to excel.
XIV. Conclusion
In Sportlane we collaborate only with the best football academies in the world that have proven themselves for many years. All of the football programs presented on our website are of high quality according to the criteria described in this guide. They will help players to significantly improve their athletic performance and give chances to establish a career at a professional level at home or abroad. The list of our partners includes elite football academies with a higher price for education (above 40 000 USD), as well as high-quality soccer academies with a lesser fee (from 20 000 USD) that continue to bring up talented students who pursue professional contracts. However, if you look for short-term programs, for example, to prepare for the upcoming season or during the break, there is plenty of soccer (football) camps as well to choose from.